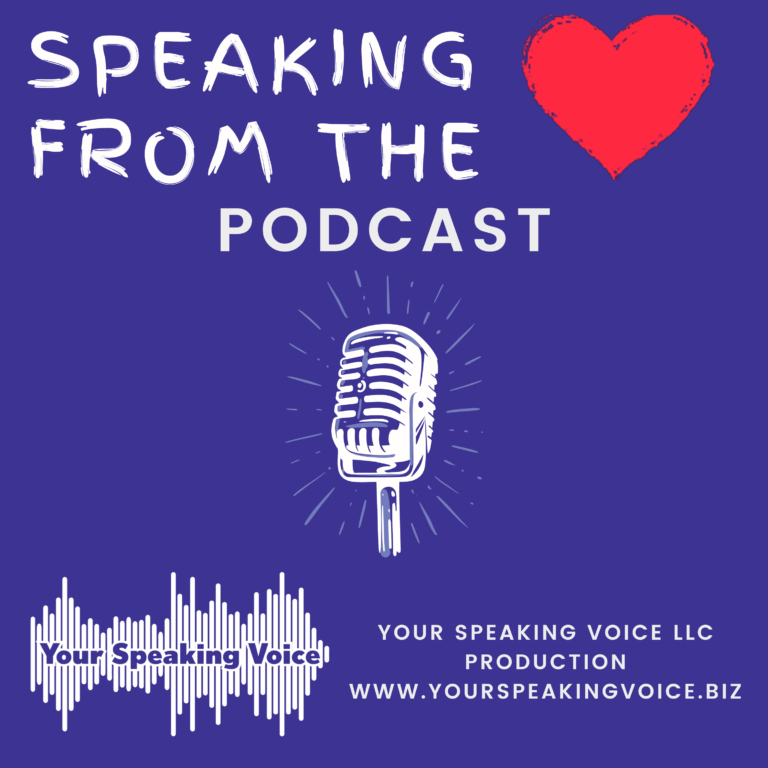 Speaking From The Heart
This podcast is hosted by the Owner/Founder of Your Speaking Voice LLC, Joshua D. Smith. Extending from the values of the business, the purpose of the podcast is to provide a focus on:
– Relationships: Personal connections are the underpinnings of creating many of the values in our lives. Without them, we are unable to provide opportunities for ourselves and potentially others.
– Confidence: Being able to overcome challenges with the knowledge and skill sets that we have help us to showcase "the best version of ourselves". We are willing to pursue our aspirations/passions by being able to see through some of the challenges that are before us, whether physically or mentally.
– Determination: Combining the formula together, being able to create the will to pursue opportunities through time, we create passions for goals that we can achieve by overcoming those events.
Each episode focuses on a variation of one of these values, with the overall mission to engage in the transformation of our "voice" in this ever changing world. Want to learn more about the business? Visit us at www.yourspeakingvoice.biz.
Episode #64 – A Servant's Heart Sharing Hopeful Content: An Interview With James Marland
Helping others in their greatest time of need can be a compassionate act of kindness that goes beyond our comfort barriers and may be looked upon as awe from fellow human beings. What if you were going through life, not exactly certain of the acts of compassion you were to provide to others, let alone yourself? Our guest today, James Marland, describes his fascinating personal and professional careers that have ultimately converged on not only adopting his son, Jeremiah, but have allowed him to start the Course Creation Studio in helping others find content in their works (and lives) to be justly enriched, not only monetarily, but through the longstanding work he has done for all his life. Being a compassionate person does not always mean having all the answers, but it can be discovered through a path that is designed for all of us to navigate.
Guest Bio
James Marland is an MBA and MAM holder who boasts over two decades of experience in mental health practice administration. After working in the corporate world to fulfill the ambitions of others, he decided to become an entrepreneur and freelancer in 2022. His mission is to help others produce and distribute good content that benefits the world. That's why he founded Course Creation Studio. Through his courses, James provides strategies to help people break free from the fear of failure, shape their own destinies, and make a positive impact through their expert knowledge. James produces 3 podcasts and has been a host of the Scaling Therapy Practice since 2022.
Facebook Page: https://www.facebook.com/coursecreationstudio
Facebook Group: https://www.facebook.com/groups/assistantsautomationai
YouTube Page: https://www.youtube.com/channel/UChu8TfU7pkW06Ut2KxgSmsg
Website: https://www.coursecreationstudio.com/
Statewide Adoption and Permanency Network (SWAN) (http://www.adoptpakids.org/Swan.aspx) – The Statewide Adoption and Permanency Network (SWAN) is a partnership among the Department of Human Services (DHS), the Pennsylvania Adoption Exchange, public and private adoption agencies, organizations, advocates, judges, the legal community, and foster and adoptive parents. The network is administered by DHS through a prime contractor. The purpose of the network is to build a better collaborative adoption process in Pennsylvania.
Visit Our Website: https://speaking-from-the-heart.captivate.fm/
Visit Our Business Website: https://www.yourspeakingvoice.biz
Support The Mission Of The Business! Donate Here: https://speaking-from-the-heart.captivate.fm/support
Intro/Outro By: Michael Dugan, Podcast Host: Voice4Chefs
Search Results placeholder