Harford County Living with Rich Bennett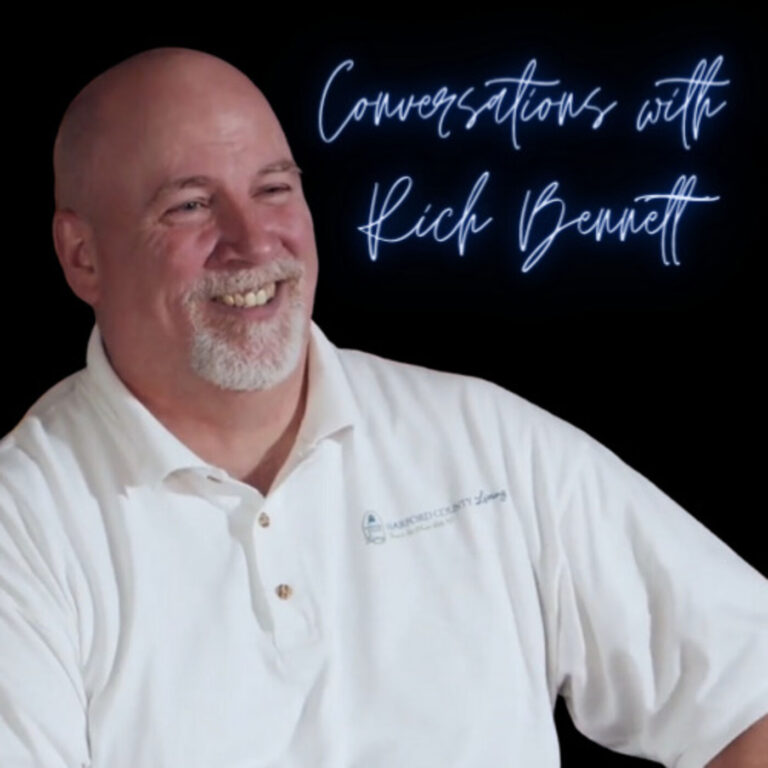 Conversations with Rich Bennett
Listen to stories and conversations with people from all walks of life and from different areas of the World. Rich Bennett speaks with different guests about business, art, addiction, and so many other interesting things. Rich is also joined at times by different co-hosts that make the conversations even more interesting.
In this episode, Rich and cohost Jennifer Hathaway have a conversation with Claudine Marcin.
Claudine Marcin is a Maryland-based award-winning author of the short story The Stairs and is also known for the four-part romantic sci-fi mystery series titled The Glory Box. She is a member of the Maryland Writers Association and the Harford County Writer's Group as well as a spirited football fan, poet, amateur photographer, and artist. Her book In the Wake of Spring, the fourth and final book of The Glory Box series, will be released in Fall 2022. For more information about Claudine's books and to join her mailing list, visit her website at www.claudinemarcin.com and follow her on any of the below platforms:
Claudine Marcin | Facebook
Claudine Marcin (@MarcinClaudine) / Twitter
Claudine Marcin (@claudinemarcin) • Instagram photos and videos
Sponsored by Your Pet AuPair
Recommended podcast – Elder Sign: A Weird Fiction Podcast
Follow the podcast on Social Media:
Facebook – Conversations with Rich Bennett & Harford County Living
Facebook Group (Join the conversation) – Conversations with Rich Bennett podcast group | Facebook
Twitter – Conversations with Rich Bennett & Harford County Living
Instagram – Harford County Living
TikTok – Harford County Living
Sponsors, Affiliates, and ways we pay the bills:
Recorded at the Freedom Federal Credit Union Studios
Hosted on Buzzsprout
Rocketbook

Join us for the 30 Days of Courage – October 1st–30th 2022
Join the Movement
Courage 365 empowers survivors of abuse (and those who love them) to live with courage, every day. We are not just a support group. We are a movement. Together, we inspire real change and lift each other up.
Join us for a powerful 30-Day event, October 1st-30th, inside of the Courage 365 Facebook group to step into the empower
Buzzsprout – Let's get your podcast launched!
Start for FREE
Freedom Federal Credit Union
HELPING YOU REACH YOUR FINANCIAL DREAMS
Your Pet AuPair
Doing It for the Sits & Wiggles!
At Your Pet AuPair our mission is to give your pets the same
Rocketbook
Get the perfect companion for podcasting, school, office, or anything else.
Disclaimer: This post contains affiliate links. If you make a purchase, I may receive a commission at no extra cost to you.